April 10th, 2006, 20:27 Posted By: zx-81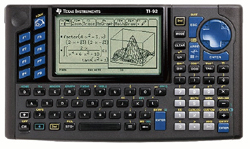 Hi All,

I've just released the version 1.0.6 of the PSP TI-92 calculator.

What's new in this version ?

- Using LTRIGGER + X key, you can now have the LCD of the TI-92 in full screen, much more convenient to play TI-92 games

.

- A simple but usefull TI-92 application called "auto close braquets" has been added in the package (found on ticalc.org web site).

I remember you that PSPXTI version prior to 1.0.4 are buggy and computation errors may occurs, so please update to earlier releases.

Many TI92 stuff can be found on the following urls :
http://www.ticalc.org, and on the texas instruments web site http://education.ti.com

You need the rom of your TI-92 or TI-92 plus, but it is NOT part of the PSPXTI package because it is the property of Texas Instruments !

This version works with 2.xFW. and 1.5FW.

It's distributed under GNU licence and sources are included.


Enjoy,



Zx.


For more information and downloads, click here!


There are 37 comments - Join In and Discuss Here