March 22nd, 2006, 10:52 Posted By: zx-81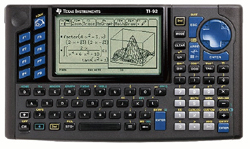 (News Submission and New Release by ZX-81)

Hi All,

I've just released the version 1.0.4 of the PSP TI-92 calculator.

We can now toggle between classical skin and aqua skin inside the emulator !

Some minor bugs have been fixed in the keyboard handler, and it should be more stable now.

This version works with 2.xFW. and 1.5FW.

It's distributed under GNU licence and sources are included.

For me it is the final release, i won't work any more on this homebrew (only if major bugs are found).



Enjoy,

Zx.

Download and Give Feedback via Comments


For more information and downloads, click here!


There are 23 comments - Join In and Discuss Here