September 16th, 2007, 23:32 Posted By: zx-81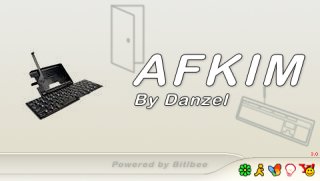 Hi all,

Here is a new release of AFKIM (Away From the Keyboard Instant Messenger),
the instant messaging application for PSP written by Danzel !

My contribution to this projet is still MINOR, all credits should remain to Danzel
(see http://localhost.geek.nz/)

What's new then ?

- Add iso 8859-1 font/characters compatibility (useful for french, spanish, german etc ...

)
- Add modified version of Danzeff Keyboard with iso 8859-1 characters
- Code cleaning

Have a look to the file README-irkbd.txt for mapping informations etc ...

The IR keyboard part has been tested using a Targus Universal IR Wireless keyboard.


Enjoy, Zx

Download and Give Feedback Via Comments


For more information and downloads, click here!


There are 18 comments - Join In and Discuss Here